Chicken Avocado Taquitos with Cilantro Lime Crema are baked until golden brown crispy and then topped with easy Mexican crema and tomatoes. This baked, healthy version of a usually deep-fried Mexican staple, is filled with creamy avocado, lime, spices, and shredded rotisserie chicken. Chicken avocado taquitos come together quickly in just 30 minutes for a fast, fun family-friendly weeknight meal. It can also be served as a snack or finger food at a party.
My family loves Mexican food, without a doubt. Not only is our favorite local Mexican restaurant our default choice for a dinner out, it's our default dinner when we can't decide what to have. Mexican dishes are generally quick and easy, and use staple ingredients I always have on hand. Whether its burritos, tacos, fajitas, enchiladas, nachos, or taquitos, you can't go wrong with a classic Mexican meal!
Although the whole family loves tacos and nachos, my favorite Mexican recipe is taquitos. It started way back in the day with these addicting Jose Ole chicken taquitos and continued with Cheesecake Factory's fantastic taquito appetizer. I've never had a taquito that I didn't love!
I love that I've passed down my love for Mexican food to my children. Whether it's these broccoli egg and cheese breakfast burritos or easy sheet pan fajitas, my daughter begs for more. Yes, she may ask for a taco and mean those tasty fajitas or ask for a fajita and really mean nachos, but she's learning. And I just love that I can make a dinner where I know she'll ask for more!
Mexican dishes are always delicious and fantastic for weeknight family dinners. These baked chicken avocados are a twist on traditional meat and cheese filled crispy taquitos. They are a fun and healthy alternative that you definitely try out for your next Taco Tuesday!
In addition to dinner, they make a great party appetizer or meal prepping choice.
What's the difference between taquitos and enchiladas?
While enchiladas and taquitos look similar, they are quite different. Enchiladas are bigger, more like a burrito, and usually contain meat, cheese, and other fillings. They are topped with red or green chili sauce and baked. Taquitos, on the other hand, are small tortillas filled with meat and cheese. Taquitos are traditionally deep fried, making them a crispy snack or appetizer.
Interested in knowing what the difference is between other Mexican dishes? Here is a great post to help you out.
These chicken avocado taquitos are a little different than traditional taquitos because they are baked and not deep fried. Although deep fried taquitos are absolutely delicious, baked chicken avocado taquitos are a bit healthier. They also differ than traditional taquitos because their base is avocado and chicken rather than cheese and chicken. While they do have cheddar cheese in the filling, this is not the main ingredient. Instead, their premise is a healthy fat: avocado.
Ingredients
My chicken avocado taquitos have just 4 ingredients in the filling:
avocado
lime juice
rotisserie chicken
cheddar or Mexican cheese
The filling is also seasoned with salt. You'll need medium flour tortillas, olive oil cooking spray, and large glass baking dish or baking sheet. I get my rotisserie chicken from Sam's Club, because it's the best I've found and just $5.00.
The cilantro lime crema requires:
cilantro
sour cream
lime juice (or a lime)
What is Mexican Crema?
Mexican crema is a thickened cream most often drizzled over soups, tacos, burritos, and enchiladas. It's a tangy and creamy sauce. Crema is really easy to make and can give your meal a whole lot of jazz. I use sour cream or yogurt to make crema quickly without boiling any ingredients. I just mix with water, herbs, and a tangy juice and I have my crema topping. You can read more about that next.
Directions
Chicken avocado taquitos are made in just 4 simple steps and 30 minutes. Here's how to do it:
First, preheat the oven and spray your baking sheet with olive oil spray.
Second, pit the avocado and squeeze the flesh into a large bowl. Pull chicken off half of the rotisserie chicken, shredding it or separating it into little pieces as you go. Add to the bowl with the avocado. Add the salt and lime juice and mix until it's well combined. Then taste and add more salt or lime juice if you'd like.
Third, add the cheddar or Mexican cheese and mix until it's distributed throughout.
Fourth, and last, place about ¼ cup of the filling onto each tortilla and roll tightly.
Place seam side down in the baking dish. Spray taquitos with olive oil.
Bake for 15 minutes or until they become crispy brown.
While the taquitos are cooking, it's time to make the cilantro lime crema, and it's even easier than making the taquitos. All you have to do is mix the sour cream with lime juice and a little water, sprinkle in some fresh or dried cilantro, and stir. If you don't like sour cream, use plain yogurt instead.
To serve chicken avocado taquitos, drizzle with the cilantro lime crema and fresh chopped tomatoes or salsa. I serve these over chopped romaine lettuce and a side of salsa for dipping and then drizzle with the cilantro lime crema for a complete healthy lunch or dinner.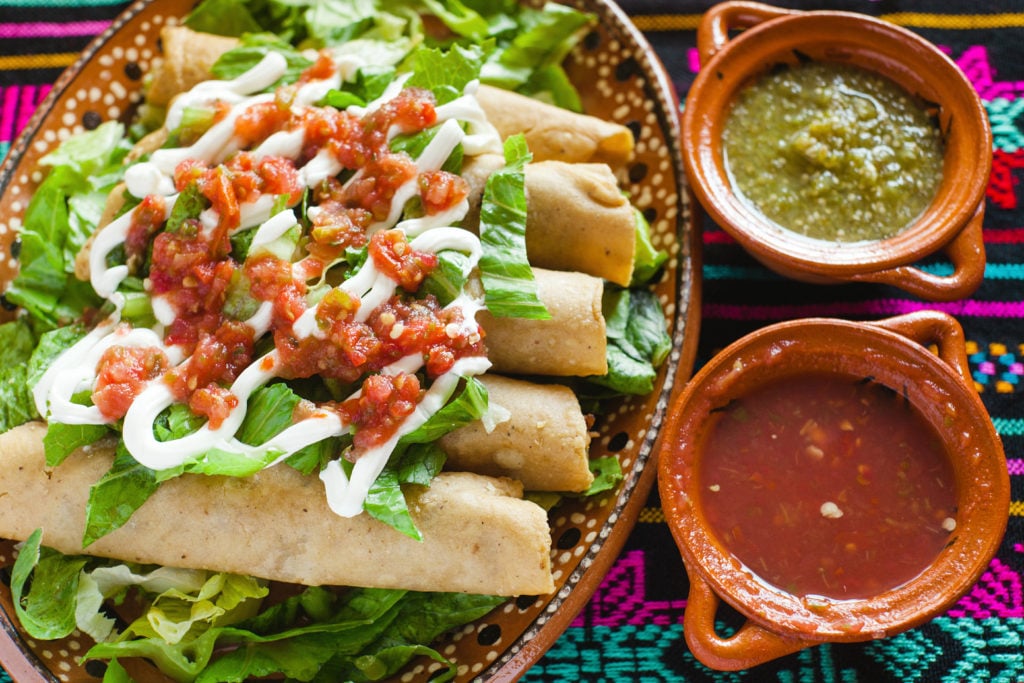 Kid-Friendly
These taquitos are an easy way to sneak your kids a fabulous green and healthy fat: the super food avocado. But if you're concerned that they'll notice and refuse to eat them, have a few dipping choices available. Serve them with a very mild salsa or pico de gallo, sour cream, yogurt, guacamole or extra cheese. Chances are, they won't notice the avocado inside because they'll be too interested in how fun it is to eat their dinner with their hands and dip it into all sorts of fun dressings!
For a small baby, bite off the crispy ends of the taquito and either cut into tiny pieces or let baby take bites of the big taquito. These chicken avocado taquitos, while crispy, are soft enough inside that even a baby can easily chew them.
Chicken Avocado Taquitos with Cilantro Lime Crema
Chicken Avocado Taquitos with Cilantro Lime Crema are baked until golden brown crispy and then topped with easy Mexican crema and tomatoes. This baked, healthy version of a usually deep-fried Mexican staple, is filled with creamy avocado, lime, spices, and shredded rotisserie chicken.
Materials
For Taquitos
2

large avocados, pitted and removed from skin

½

rotisserie chicken, shredded

12

tortilla wraps

1

tablespoon

lime juice

1 ½

teaspoon

salt

1

cup

cheddar or Mexican blend cheese
For Cilantro Lime Crema
½

cup

sour cream

2

teaspoon

lime juice

1

teaspoon

dried cilantro
Instructions
Preheat the oven to 450°. Spray a large glass baking pan with cooking spray or grease with a little olive oil.

In a large bowl, add shredded rotisserie chicken, avocado, lime juice, salt, and cheddar. Mix until well combined. Taste and season with additional salt and lime juice as desired.

Scoop about ¼ cup of filling onto each tortilla wrap. Roll tightly and place in pan seam side down. When all taquitos have been rolled, spray generously with cooking spray.

Bake for 15 minutes, or until golden and crispy around the edges. While baking, mix all ingredients for the cilantro lime crema until blended. Serve taquitos drizzled with crema and dipped in salsa.
Nutrition
Meal Prepping
These delicious baked chicken avocado taquitos are perfect for meal prepping because they are quick and contain filling nutrients like protein and fat from the chicken and avocado. The recipe makes a large batch, so you can make them once in less than 30 minutes and have meals for the entire week. They are also easy to pop right in the toaster or microwave and only take a short time to warm.
Parties
Chicken avocado taquitos are great for snacking or as a party food. They are still good when at room temperature, so for parties there is no need to worry about warming them up again or if your guests will like them once they have been sitting for a while (if they last that long!).
Cut each taquito in half and serve with the cilantro lime crema and salsa on the side for dipping.
And that's all about baked avocado chicken taquitos! Let me know what you think in the comments. Don't forget to follow me on Pinterest for the latest tasty recipes.
Looking for more delicious recipes? Try these!