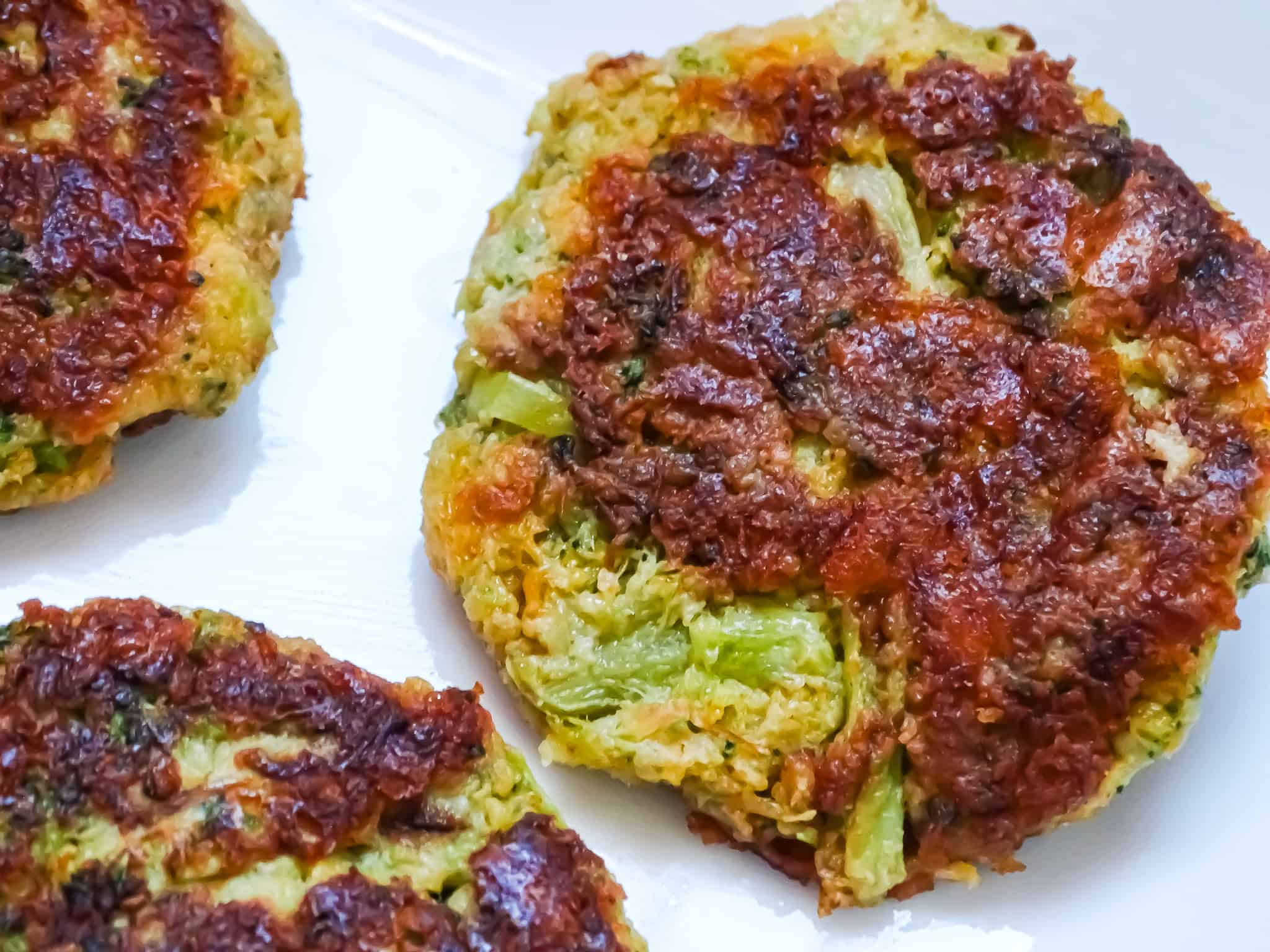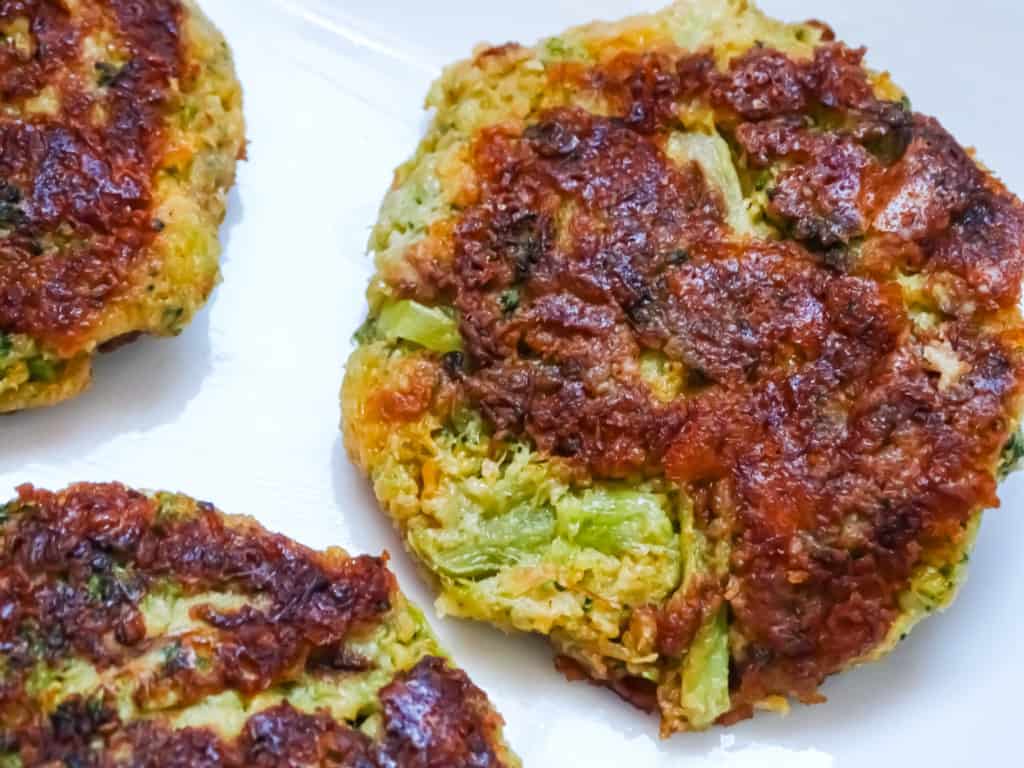 Broccoli Cheddar Fritters made with 4 simple ingredients are a perfect kid-friendly snack! They are quick and easy (ready in 10 minutes), and one batch makes 10 fritters. Use broccoli cheddar fritters as a meal or snack or put on a mini roll as a baby veggie burger! Soft on the inside and crispy on the outside, these are a healthy snack that babies and kids will love!
Jump to:
Broccoli cheddar fritters are simple and delicious. It takes only 10 minutes to prepare and cook them.
They are crispy on the outside from being pan-fried but soft and melt-in-your mouth on the inside. This makes them perfect for little ones just getting used to textured foods or eating solid adult foods— or picky eaters who refuse their veggies.
Since these broccoli cheddar fritters are mixed with tasty cheddar cheese and breadcrumbs, they are a sneaky way to get your family their daily dose of veggies without them even knowing it.
It's also easy to make a big batch and use them for meal prepping or snacking and lunches all week long.
For adults they are delicious with a zesty sauce, ketchup or mustard. You can also serve them in little buns to make veggie burgers for your kids (or you!).
If you've been following my blog for a while, you'll see that so many of my dinner and side dish recipes include broccoli.
There are so many ways to eat it, like as a stuffing in burritos for broccoli egg and cheese breakfast burritos, as a side dish, or a main meal tossed with garlic olive oil and pasta.
Broccoli also has amazing health benefits. It's believed to ward off cancer and protect your body from other chronic diseases. It also keeps your body looking young and your bones healthy!
Broccoli is an amazing powerhouse of health benefits, and it's readily available all year round. It can be refrigerated or frozen for up to 6 months, so it's pretty economical too.
Making broccoli cheddar fritters is a great way to use leftover broccoli, which we always seem to have. This recipe also works great when you have steamable bags of broccoli because you'll need to cook the broccoli first, and steam bags take just a few minutes to cook.
Don't love broccoli as much as we do? Try Cheesy Zucchini Fritters instead.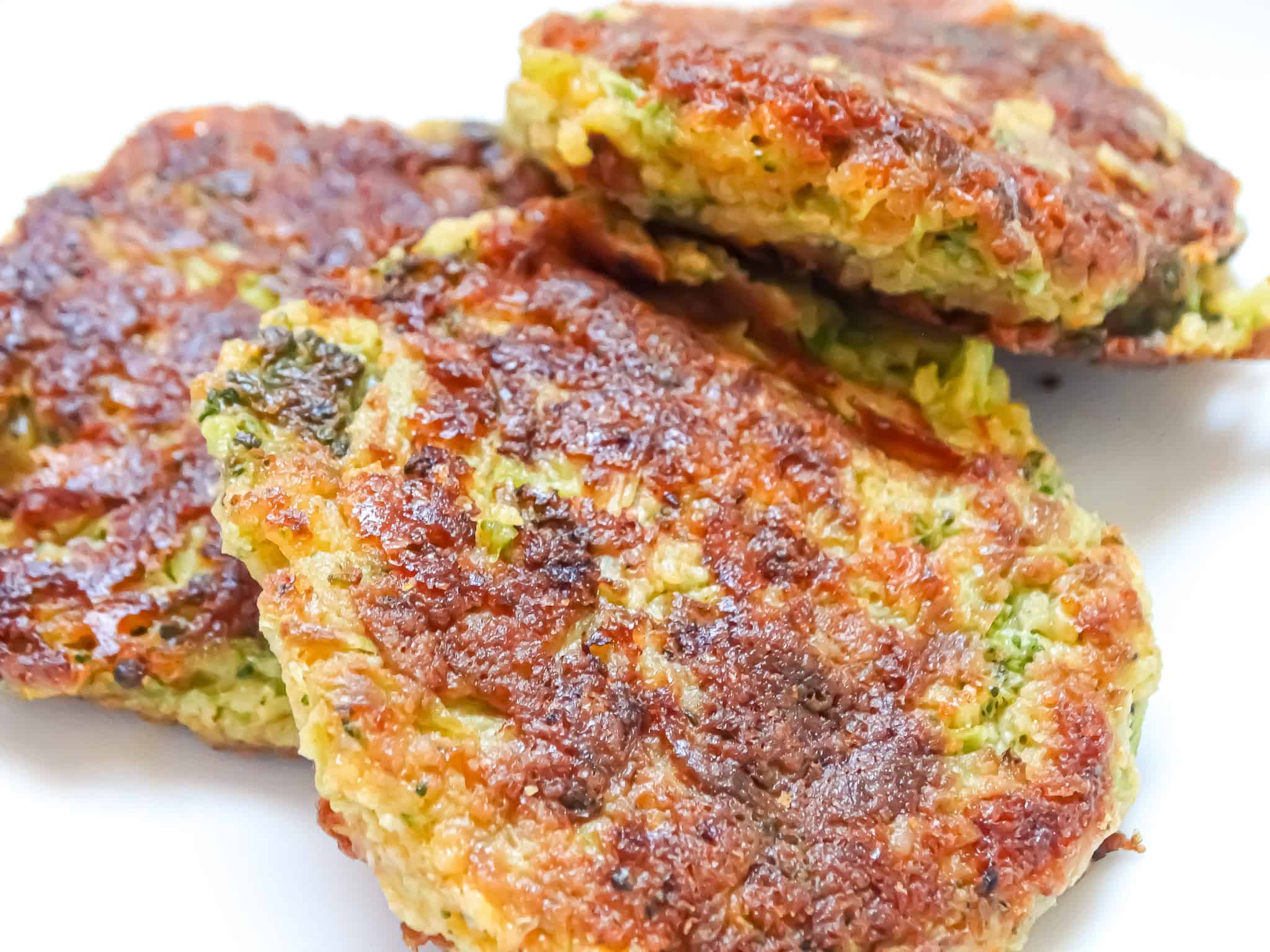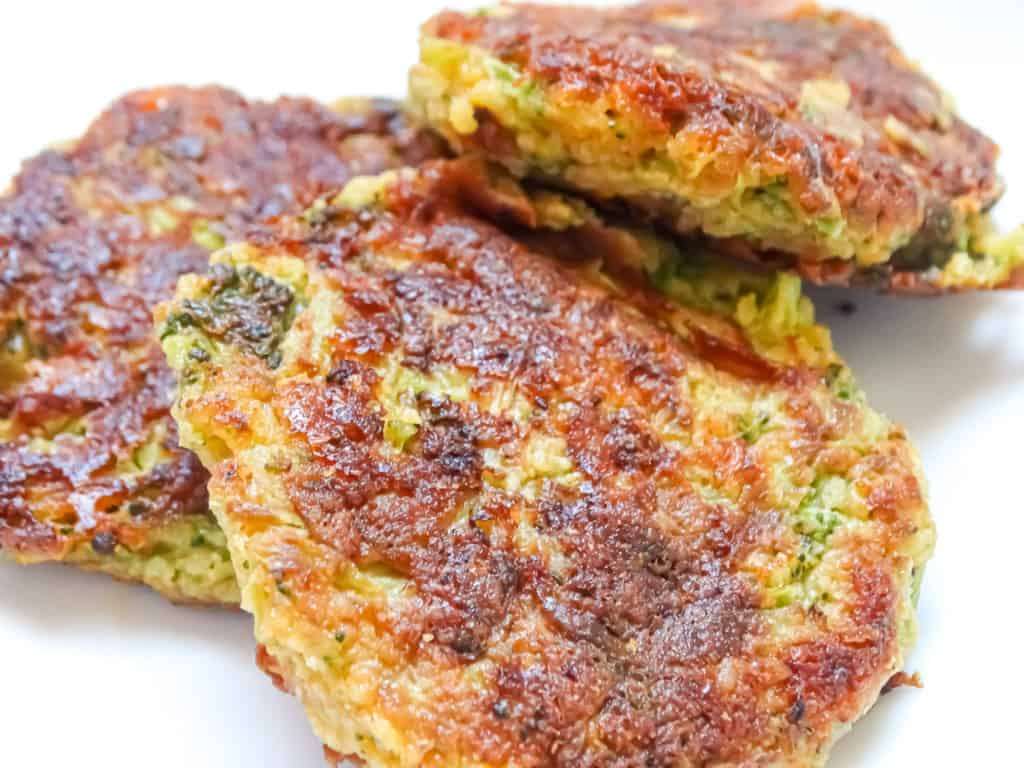 Ingredients
Broccoli cheddar fritters are made with 4 ingredients: cooked broccoli, shredded cheddar cheese, bread crumbs, egg.
Plus, salt and pepper, but I don't count those as ingredients, just taste enhancers.
You'll also need a food processor to chop the broccoli into small pieces , and frying pan or griddle and oil.
I use a food processor to finely mince the cooked broccoli since I don't want any large pieces that the baby can choke on. But if you're making these for older kids or adults, you can simply mash the broccoli with a fork or chop it into fine pieces with a knife.
Step-By-Step Directions
You can make broccoli cheddar fritters in about 10 minutes. Here are the simple steps:
In a food processor or blender, chop the broccoli into tiny pieces.
Then mix the broccoli, cheddar cheese, salt, pepper, egg, and breadcrumbs.
Roll the mixture into small balls 1-2 inches, just like you would meatballs. Press them between your palms to flatten them like mini burgers.
Heat oil in the pan on medium heat. Add the broccoli cheddar fritters and cook for 2-3 minutes on each side. The sides will be golden brown when they are done. Be careful flipping them here. I find a metal spatula does better at getting them off the pan without them falling apart. Also make sure to not crowd the pan because it will be difficult to flip them if you do.
Then serve and enjoy!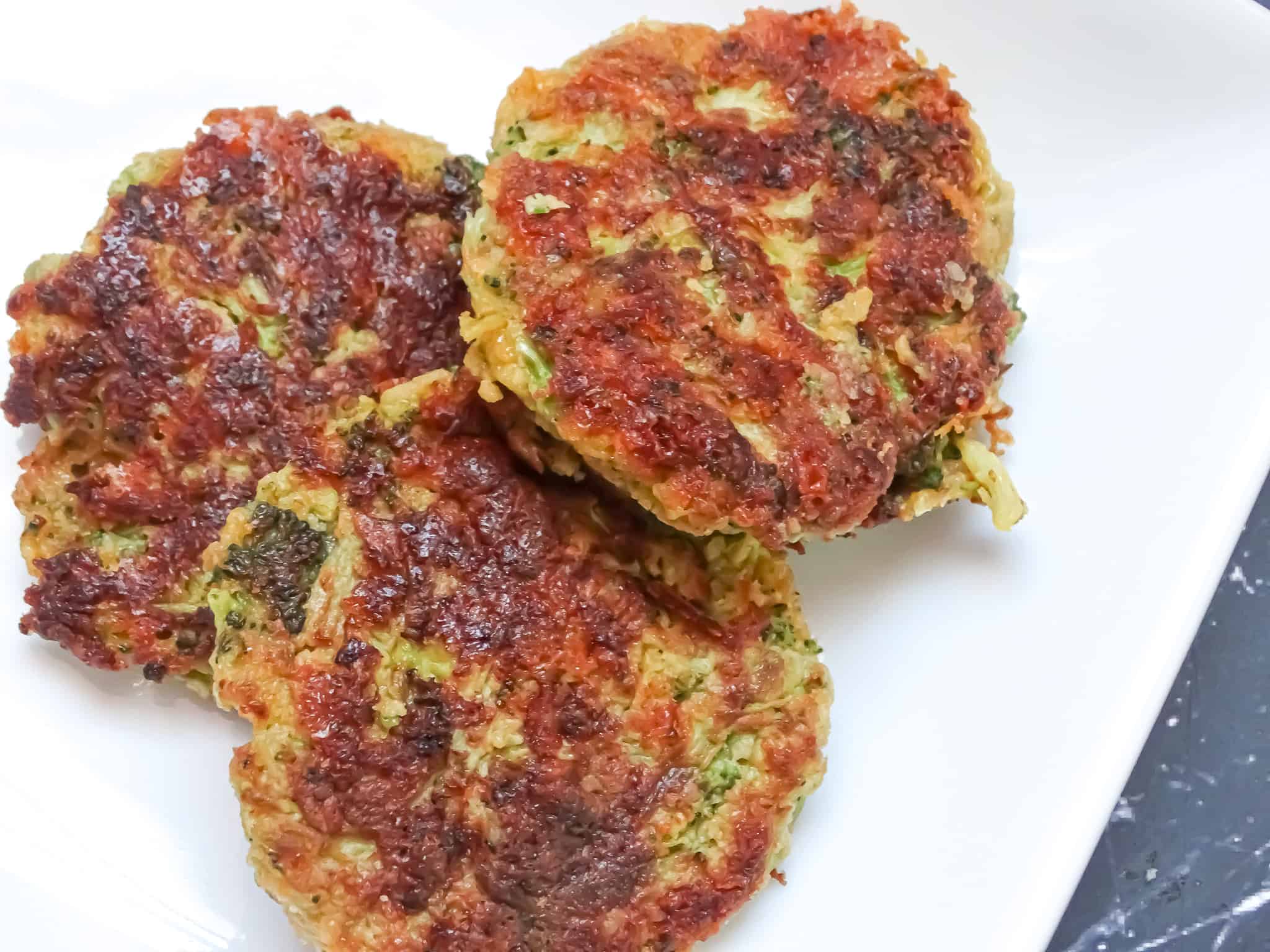 Recipe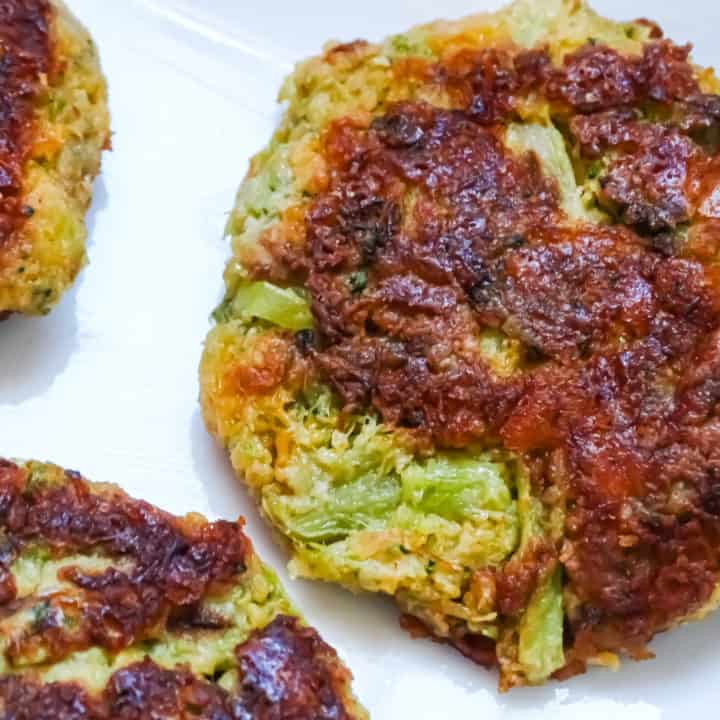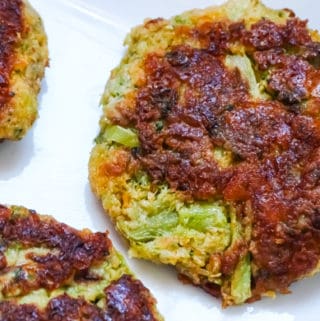 Broccoli Cheddar Fritters
Broccoli Cheddar Fritters made with 4 simple ingredients are a perfect kid-friendly snack! They are quick and easy (ready in 10 minutes), and one batch makes 10 fritters. Use broccoli cheddar fritters as a meal or snack or put on a mini roll as a baby veggie burger!
Ingredients
1 ½

cup

cooked broccoli

1 ½

cup

cheddar cheese, shredded

¼

teaspoon

pepper

½

teaspoon

salt

⅓

cup

breadcrumbs

1

egg
Instructions
Using a blender or food processor chop broccoli into tiny pieces.

In a bowl, mix all ingredients.

Roll into 1 -2 inch balls as you would a meatball. Press between palms to form a flat patty.

Coat a large pan with olive oil ¼ of an inch deep. On medium heat, fry the patties for 3 minutes on each side (until golden brown).

Serve warm as a snack or mini veggie burger.
Nutrition
Serving:
1
fritter
Calories:
94
kcal
Carbohydrates:
4
g
Protein:
6
g
Fat:
6
g
Saturated Fat:
4
g
Cholesterol:
34
mg
Sodium:
259
mg
Potassium:
73
mg
Fiber:
1
g
Sugar:
1
g
Vitamin A:
279
IU
Vitamin C:
12
mg
Calcium:
138
mg
Iron:
1
mg
🥦 Serving
You can serve these tasty fritters as a snack or even a full meal for the little ones who might be going through a picky eating phase like my babe.
Another great idea is to make a veggie burger using either a sweet Hawaiian roll or dinner roll. Both of my kids really loved this! Top the broccoli cheddar fritter with ketchup, mayonnaise, mustard, or whatever else you like.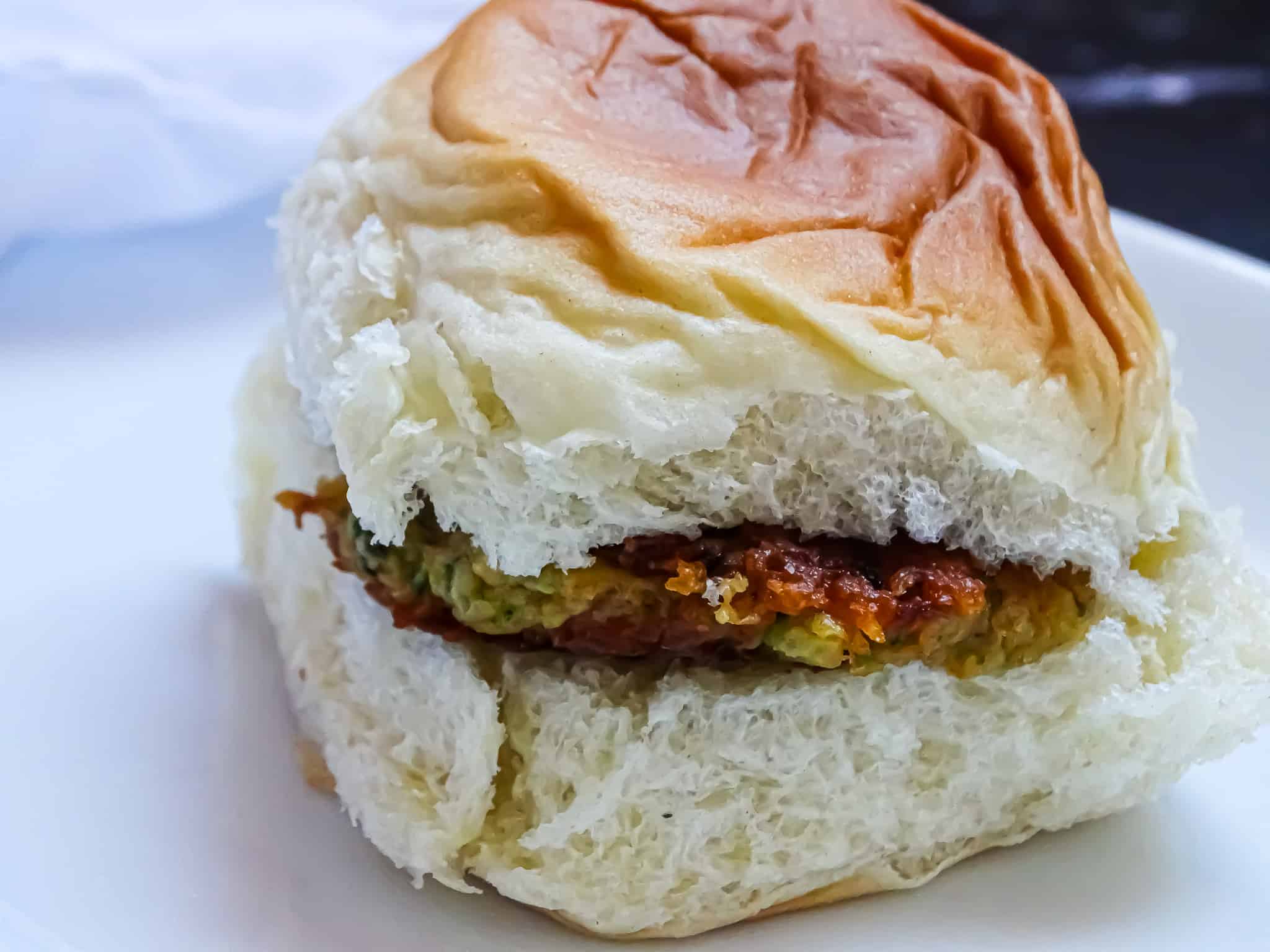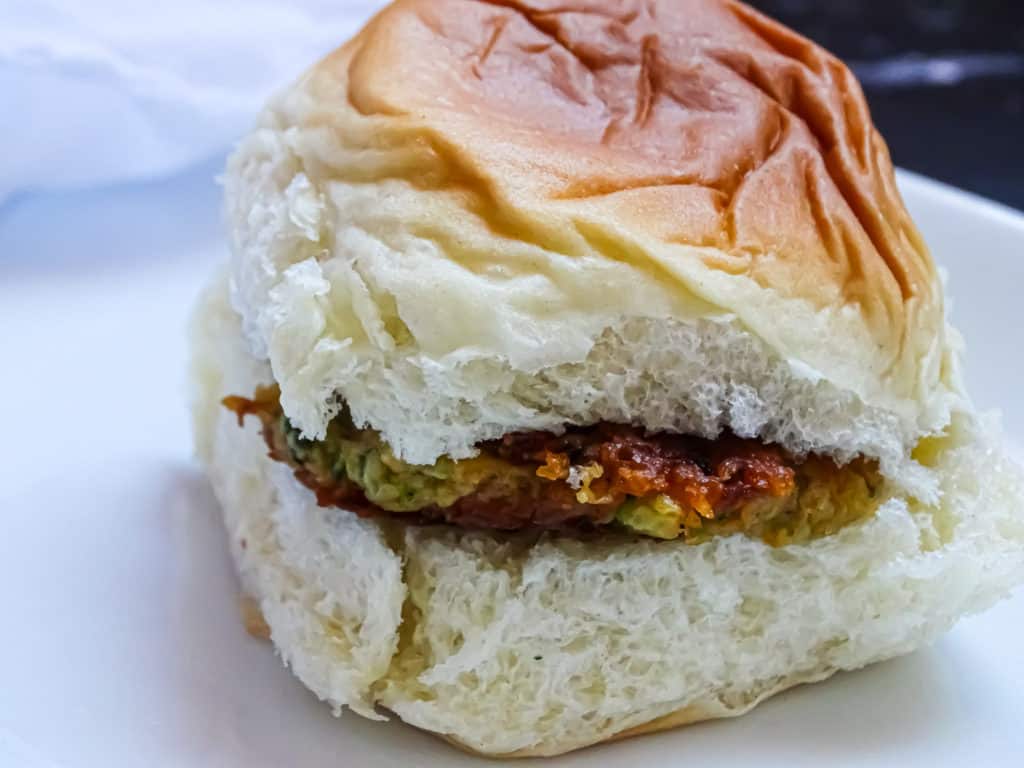 Store them in fridge for up to 5 days or in the freezer for up to 6 months.
That's all there is to it! If you made these broccoli cheddar fritters, I'd love to hear from you! Leave me a comment and let me know what you thought.
For more delicious recipes, follow me on Pinterest, Facebook, and Instagram! And if you loved this recipe make sure to give it a star rating!
Related Recipes You'll Love
Garlic Broccoli Cauliflower with Red Onions & Lemon